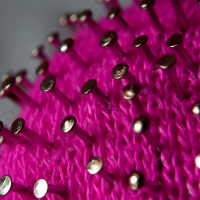 Acknowledgement
We acknowledge those nurses who have already lost their lives to COVID-19 and the brave and dedicated healthcare workers who continue to put their lives at risk to help patients infected by this virus.
   
Cochrane Nursing
MISSION:
To establish an international dissemination network of the best available evidence
for nurses and related healthcare professionals involved in delivering,
leading or researching nursing care.   
Director's Message - Critical Update: COVID-19
Craig Lockwood, RN
Director, Cochrane Nursing
Dear All,

I want to highlight a fantastic resource and ask you to share it widely! Cochrane have compiled a significant body of evidence across key clinical topics and priority areas for nurses, physicians and other front line care staff. This is a multi-lingual resource that highlights content relating to the coronavirus (COVID-19) pandemic and the various related activities that Cochrane is undertaking in response - https://www.cochrane.org/coronavirus-covid-19-cochrane-resources-and-news
the above website has valuable links to evidence from the Cochrane Library - divided into the following sections:
 

There are also two significant Special Collections we want to let you know about:

Coronavirus (COVID-19): evidence relevant to critical care 
This Special Collection brings together Cochrane Reviews identified as most directly relevant to the management of people hospitalized with severe acute respiratory infections.

Coronavirus (COVID-19): infection control and prevention measures
This Special Collection focuses on infection control and prevention measures.

During a time of extreme global challenge and the direct emotional and psychosocial impact on healthcare workers – nurses and their families in particular, please consider sharing this resource on your social media networks, to the leaders of societies and associations you are a member of, with your healthcare colleagues and with policy makers who may be seeking reliable, objective evidence.
Cochrane Nursing Survey:

Cochrane Nursing wants to know how you are going and if there are evidence needs we can respond to. Please take two minutes now while you are online to complete this very brief survey:  https://www.surveymonkey.com/r/GST96P6
Stay safe, this is an unprecedented event, nursing is a wonderful profession and we have a strong culture and powerful group identity.  Let's continue to support and look after each other.
Best wishes,
Craig
Cochrane Crowd and COVID-19
How Cochrane Nursing members
can help!
Cochrane comprises a global network of over 40,000 researchers, educators, clinicians, and patients - all working together to produce reliable and accessible healthcare information to improve patient outcomes globally.  
During this period of uncertainty due to COVID-19, and as many of us will be self-isolating and social distancing, we encourage CN members to link with and contribute to Cochrane direct via the
COCHRANE CROWD
https://crowd.cochrane.org/index.php
  This group can assist CN members who would like to get actively involved in supporting the development of new and updated Cochrane resources to assist front-line healthcare workers with COVID-19 treatment and management.  
Cochrane Crowd is a web-based platform where members can access Cochrane tasks related to COVID-19 that anyone can assist with.  There is guidance and training provided, and access to direct support if required.  With your help, Cochrane will be able to develop higher quality and greater volumes of content that can be disseminated and accessed by hospital staff globally.   
What is currently happening in the Cochrane Crowd relating to
COVID-19:
Cochrane Crowd will be running a series of screening challenges over the coming weeks. The first task will be focused on identifying RCTs from CINAHL, one of the top nursing and allied health databases.  Cochrane then hopes to roll out tasks focused more specifically on identifying and describing the latest studies regarding COVID-19 or interventions linked to similar conditions. These tasks will be slightly more in-depth, but as mentioned there will be a training module to help members get started.  For more information about the screening challenge go to - 
https://crowd.cochrane.org/index.php#pathwayinfocovid19page
or e-mail the Cochrane Crowd direct at - 
crowd@cochrane.org
Cochrane Nursing Members - this is a
CALL TO ACTION:
If you have the time, Cochrane needs your help!  login to Cochrane Crowd and offer your support now.  

You can HELP further by tweeting and posting the Cochrane COVID-19 Collection, and by
sharing the content with your colleagues and
professional networks.
Cochrane COVID-19
Study Register

Cochrane announces the launch of its COVID-19 Study Register – a repository for primary research studies on COVID-19. 
The register supports rapid evidence synthesis by all systematic review producers, including Cochrane's work on Rapid Reviews in response to COVID-19. The register helps systematic reviewers prioritize topics, identify available evidence, and produce urgently needed reviews for front-line health professionals, public health policymakers, and research teams developing new therapeutic, diagnostic, and preventive interventions for COVID-19. 
The new COVID-19 Study Register will be continually updated with human studies on COVID-19. It is the latest initiative by Cochrane, a global network of health-researchers, producing high-quality, relevant, and up-to-date synthesized research evidence in response to COVID-19.
Cochrane's Editor in Chief, Karla Soares-Weiser, said this is a huge stride forward in providing a place for rapid evidence synthesis: "Cochrane has launched a critically important study-based register that clearly states the eligibility criteria and sources we are currently running through our centralized search and initial curation processes. The primary use case for this register is to support evidence synthesis efforts such as living systematic reviews, living network meta-analyses, and rapid reviews, all fed by living guidance related to COVID-19."
Cochrane's Head of Information Technology, Chief Information Officer and project lead, Chris Mavergames, said: "Cochrane has been working for several years on technological solutions and processes to improve efficiency in evidence synthesis and move toward a 'living evidence ecosystem' model. COVID-19 presents a formidable challenge, and we will use our data curation and synthesis tools to assist in rapidly addressing the most important questions for global decision-makers. This Study Register represents a key pillar in that effort."
Isabelle Boutron, Centre d'épidémiologie clinique, Centre de Recherche Épidémiologie et Statistiques, Cochrane France, leads a key project to synthesize COVID-19 evidence. She commented: "Cochrane's COVID-19 Study Register helps us synthesize primary studies faster for our Living Network Meta-analysis and provide the relevant evidence to support researchers who are actively working to accelerate the development of diagnostics, preventive interventions, therapeutics and vaccines."
 
Find out more about Cochrane's Study Register
A Cochrane Rapid Review:
How effective is quarantine alone or in combination with other public health measures to control coronavirus (COVID-19)?
Quarantine alone or in combination with other public health measures to control COVID‐19: a rapid review - Cochrane Database of Systematic Reviews:
https://www.cochranelibrary.com/cdsr/doi/10.1002/14651858.CD013574/full
Cochrane have published a new Rapid Review looking at quarantine during the COVID-19 pandemic. It was completed in a short space of time as part of Cochrane's organizational effort to meet the need for up-to-date summaries of evidence to support decision-making in combating the effects and impact of COVID-19.  
The review summarizes evidence available from modelling studies that show how quarantining affects the spread of COVID-19.  The studies included in the review consistently conclude that quarantine can play a role in controlling the spread of coronavirus SARS-CoV-2.  While early implementation of quarantine and its combination with other public health measures may reduce the spread of the disease, key uncertainties remain as to how these measures can best be adopted and when they can be relaxed.  
Currently, there are no effective medicines or vaccines available to treat or prevent COVID-19.  For this reason, restrictive public health measures such as isolation, physical distancing, and quarantine have been used in a number of countries to reduce transmission of the virus. Isolation refers to the separation of people with symptoms from others, whereas quarantine is the restriction of people who have no symptoms, but who have had contact with people with confirmed or suspected infection.  Quarantine can be implemented on a voluntary basis or can be legally enforced by authorities, and it may be applied at an individual, group, or community level.  
Cochrane researchers used abbreviated systematic review methods to address the following questions as quickly as possible:
Is quarantine of asymptomatic individuals who were in contact with a confirmed or suspected case of COVID-19 effective to control the COVID-19 outbreak?
Are there differences in the effectiveness of quarantine in different settings?
How effective is quarantine when combined with other interventions, such as case isolation, school closures, or antiviral drugs, in reducing transmission, incidence of diseases, and death?
Is quarantine of individuals coming from a country with a declared COVID-19 outbreak effective in controlling the COVID-19 outbreak?
 
The authors identified 29 relevant studies. Of these, 10 focused on COVID-19, 15 focused on related evidence on SARS (severe acute respiratory syndrome), two focused on SARS and other viruses, and two focused on MERS (Middle East respiratory syndrome). The 10 studies addressing COVID-19 were all modelling studies simulating outbreak scenarios in China, the UK, and South Korea, and on a cruise ship.
 
The COVID-19 modelling studies included in the review consistently report a benefit of quarantine measures and show similar findings from studies on SARS and MERS.
 
The authors of this Cochrane Review concluded that:
 
Quarantine of people exposed to confirmed cases may avert high proportions of infections and deaths compared to no measures.
The effect of quarantine of travelers from a country with a declared outbreak to avert transmission and deaths was small.
In general, the combination of quarantine with other prevention and control measures, such as school closures, travel restrictions, and physical distancing, had a greater effect on the reduction of transmissions, cases which required critical care beds, and deaths compared with quarantine alone.
More comprehensive and early implementation of prevention and control measures may be more effective in containing the COVID-19 outbreak.
 
The researchers rate their confidence in the results to be low or very low because of the way that the models used in the studies were developed. They are based on assumptions about the true prevalence of infection, which could be updated when we know more about this aspect of the COVID-19 pandemic.
 
However, the authors also stress the importance of using information about the local context in deciding on how measures such as quarantining should be adopted and when they can be lifted. Lead author Barbara Nußbaumer-Streit said: "This Cochrane Review shows that while quarantine may help in containing the COVID-19 outbreak, decision-makers will need to constantly monitor the outbreak situation locally in order to maintain the best possible balance of measures in place, and that there is an acceptable trade-off between benefits and harms."
 
Cochrane Editor in Chief, Karla Soares-Weiser, added, "The spread of coronavirus presents a major challenge for governments all over the world. Cochrane has a duty to provide the best available evidence to support policy-making, balancing rigour with speed. We have fast-tracked this review because it addresses one of the highest priority questions we have identified. This review is particularly helpful for decision makers looking for evidence to inform their decisions around the implementation of quarantine measures."
 
Cochrane Nursing Contributors
eligible for
Cochrane Membership
We would like to ensure that all members of CN are recognised in the Cochrane Membership database.  By contributing to the CN mission, you are earning points towards Cochrane membership - examples of contributions and points awarded are given here:
https://www.cochrane.org/join-cochrane/contribution-types-and-membership-points
Contributions such as peer or consumer review conducted via an Archie workflow; or translations completed on our online translation portal, are credited to contributors' records automatically. In the future, it is expected all contributions to Cochrane's work will be recognised in this way.  Renewal of Cochrane membership is based on ongoing contributions; so, in order for membership to continue, members need to send Cochrane regular updates of contributions.   
Members can make a decision about how they wish to quantify contributions based on the extent of the work they are involved in. As a guide, membership is awarded for earning 1,000 points in 12 months.  For details on Cochrane membership thresholds go to -  
https://www.cochrane.org/join-cochrane/cochrane-membership-thresholds
All CN contributors can now track work with Cochrane via the new 'Contributions' tab in their 
Cochrane Account
. When contributors reach 1,000 points, they receive the membership activation email automatically.  When contributors activate their membership, they can now also download a membership certificate from the new 'Membership' tab.  
For those CN members who are making significant contributions to our various activities, you may be eligible for a role-based, staff membership.   
If you have any questions regarding Cochrane membership, please contact
membership@cochrane.org
Since the last Cochrane Nursing Bulletin, the following summaries have been developed and published (or pending publication)
Summary Writer: Jacqueline Pich, PhD, BNurs (Hons I), BSc, Lecturer, Faculty of Health UTS Sydney – Topic: 'Phosphodiesterase 5 inhibitors for pulmonary hypertension' - International Journal of Evidence based Healthcare
 
Summary Writer: Daksha Trivedi, Senior Research Fellow, Centre for Research in Public Health and Community Care, University of Hertfordshire, Hatfield, UK – Topic: 'Interventions to improve inhaler technique for people with asthma' - Primary Health Care Research & Development Journal
 
Summary Writer: Christine Neville RN PhD, Professor and Head, School of Nursing and Midwifery, University of Southern Queensland – Topic: 'Interventions to optimise prescribing for older people in care homes' – International Journal of Nursing Practice
 
Tracy Levett-Jones, RN, PhD,MEd & Work, BN, DipAppSc(Nursing, Professor of Nursing Education, Discipline Lead – Nursing, Faculty of Health, University of Technology Sydney – Topic: 'Vaccines for preventing influenza in the elderly' - International Journal of Nursing Studies
 
Summary Writer: Elizabeth Scruth PhD MPH RN CNS CCRN CCNS FCCM FCNS CPHQ - Director of Tele Critical Care, Northern California Kaiser Permanente: Clinical Quality Programs and Data Analytics – Topic: 'Risperidone for psychosis‐induced aggression or agitation' – Issues in Mental Health Nursing Journal
 
Summary Writer: Kate Rowan-Robinson RN, BN, GradDipSexol, MACN, National Nurse Manager/Sonic HealthPlus, WA – Topic: 'Celecoxib for Osteoarthritis' - British Journal of Community Nursing
 
Summary Writer: Natalie Govind, Lecturer, Faculty of Health, University of Technology Sydney – Topic: 'Home versus in‐patient treatment for deep vein thrombosis' - British Journal of Community Nursing

Summary Writer: Jacqueline Pich, PhD, BNurs (Hons I), BSc, Lecturer, Faculty of Health UTS Sydney – Topic: 'Pharmacotherapy for hypertension in adults aged 18 to 59 years' – International Journal of Nursing Practice
 
Summary Writer: Janice Christie, PhD, MA, RN, Senior Lecturer, University of Manchester – Topic: 'Cholinergic medication for antipsychotic‐induced tardive dyskinesia' - Issues in Mental Health Nursing Journal
 
Summary Writer: Adrienne S. Murray, PhD, MBA, RN, Director, Nursing Quality, Development & Professional Practice, University of Mississippi Medical Center – Topic: 'Vitamin K antagonists versus low-molecular-weight heparin for the long term treatment of symptomatic venous thromboembolism' - British Journal of Community Nursing
 
Summary Writer: Vicky Visvanathan, Lecturer / CCRN / CN, PhD Candidate, MN, PG Dip. Critical Care Nursing, PG Cert. in Research Methodologies, University of South Australia / Royal Adelaide Hospital – Topic: 'Exercise-based cardiac rehabilitation for adults with heart failure' – International Journal of Evidence-based Healthcare
 
Summary Writers: Denise Blanchard PhD, RN, Associate Professor, School of Nursing Midwifery, and Indigenous Health, Faculty of Science, Charles Sturt University, Bathurst, Australia & Kim van Wissen, PhD, RN Senior Lecturer, School of Nursing, Midwifery, and Health Practice, Faculty of Health, Victoria University of Wellington, New Zealand – Topic: 'Adverse side effects of dexamethasone in surgical patients' – American Journal of Nursing
 
Summary Writer: Dr Christine Neville RN PhD, Professor, School of Nursing and Midwifery, University of Southern Queensland, Australia – Topic: 'Withdrawal versus continuation of long-term antipsychotic drug use for behavioural and psychological symptoms in older people with dementia' - Issues in Mental Health Nursing Journal
 
Summary Writer: Daphne Stannard, RN-BC, PhD, CNS, FCCM, Lecturer - San Francisco State University – Topic: 'Epidural local anaesthetics versus opioid-based analgesic regimens for postoperative gastrointestinal paralysis, vomiting and pain after abdominal surgery' - Journal of Perianaesthesia Nursing
 
Summary Writer: Amanda Wilson RN BA (Hons) MCA PhD, Senior Lecturer, School of Nursing and Midwifery, University of Newcastle, Australia – Topic: 'Neuromuscular electrical stimulation (NMES) for patellofemoral pain syndrome' - Orthopaedic Nursing Journal
 
Summary Writer: Rhoda Redulla, DNP, RN-BC, Magnet Program Director, NewYork-Presbyterian/Weill Cornell Medical Center – Topic: 'Reminiscence Therapy for Dementia' – Issues in Mental Health Nursing Journal
 
Summary writer: Jacqueline Pich, PhD, BNurs (Hons I), BSc, Lecturer, Faculty of Health UTS Sydney – Topic: 'Increasing antipsychotic dose versus switching antipsychotic for non-response in schizophrenia' – Issues in Mental Health Nursing Journal