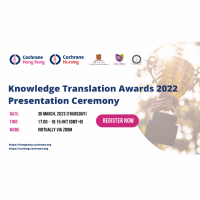 Knowledge Translation Awards Presentation Ceremony will be held on 30 March, 2023
The Presentation Ceremony of the Knowledge Translation Awards 2022, organised by Cochrane Hong Kong, Cochrane Nursing and The Nethersole School of Nursing, Faculty of Medicine, The Chinese University of Hong Kong, will be held via Zoom on 30 March, 17:00 - 18:15 HKT (GMT+8).
This Knowledge Translation Awards competition was launched in 2022 to encourage global university students to engage in the translation and dissemination of Cochrane evidence as well as recognising their talents and creativity with two categories of awards:  Knowledge Translation Creativity Award and Cochrane Evidence Translation Award. We are honoured that the following Cochrane experts and nursing leaders will join the ceremony as our guests of honour, and Dr. Gavin Adams will also deliver the opening remarks for us.
Dr. Gavin ADAMS

, Director of Development, Cochrane

Professor Philip CHIU

, Associate Dean (External Affairs), Faculty of Medicine, CUHK

Ms. Tiffany DUQUE

, Senior Geographic Support Officer, Cochrane

Ms. Judith DEPPE

, Multi-language Programme Manager, Cochrane

Dr. Yuan CHI

, Cochrane Campbell Global Ageing Partnership, UK

Dr. Pamela LEUNG

, Honorary Governor, Alice Ho Miu Ling Nethersole Charity Foundation

Ms. Lucia KO

, Principal Nursing Officer, Public Health Nursing Division, Health Administration and Planning Office, Health Services and Administration, Department of Health, HK

Mr. Lawrence POON

, Chief Manager (Nursing), Hospital Authority, HK
The online registration is open until 26 March 2023 (Sunday).
Learn more about this event: https://hongkong.cochrane.org/news/knowledge-translation-awards-2022-presentation-ceremony.